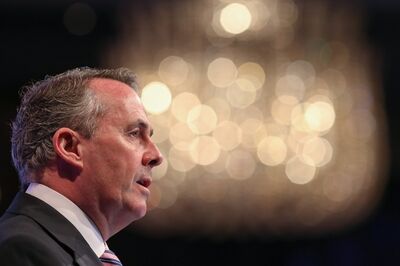 The U.K. is eyeing a deal with the U.S. to give London-based banks free access to Wall Street, International Trade Secretary Liam Fox said as he predicted Britain's economy would thrive even without a Brexit deal.
In an interview with Bloomberg, Fox said he wanted to open up commerce with the U.S. "in every sector" including financial services, which he anticipated would form a key part of future trade talks between London and Washington.
"We would like to see as open a trading environment as possible" between the U.K. and the U.S., he said. "It's a fair bet that given the shape of the U.K. economy and the shape of the U.S. economy that the service sector will play a very important part in what we look at."
Securing easier entry to Wall Street would potentially compensate British banks for any post-Brexit loss of access to the EU and also provide Prime Minister Theresa May with leverage in her negotiations with the EU. Executives increasingly assume Britain's withdrawal from the EU will cost banks with operations in London so-called passporting rights, which enable them to provide services across the bloc.